GUI Test Automation Tools
GUI test automation across any platform – by anyone.
A visual platform to see what your users see in real-time.
Trusted by leading companies for over 20 years
Start your free trial today
Comprehensive UI testing is critical to the success of new software, systems and services. It is often impossible to automate this testing at a code or object level, leaving time-critical GUI testing as the only viable option.
6 hour process now takes 10 minutes. Our virtual robots have saved time, effort money & resource ."
Reduced man hours by approximately 1 hour per day per tester. At that level, saving us 32.5 hours per week – a considerable cost saving."
Fully Customisable, Platform Agnostic Test Automation Tool
T-Plan allows anyone within your organisation to design and execute end-to-end tasks across any device, browser, OS and technology. With record and playback functionality, you can repeat, edit and enhance at every step.
T-Plan Robot comes with the web portal, development and execution features. Thanks to its open architecture with extension interface, the platform can also be easily customised and integrated with other systems.
Platform Agnostic, Seamless Integration
Tool Integrations
A vast number of integrations are available, including Selenium Object Automation support saving you time, effort and money building and maintaining the Selenium testing framework.
Platform Agnostic
Cross-browser, cross-device GUI web and mobile automation. Web and Desktop Automation on Mac, Windows and Linux using same application, code and files.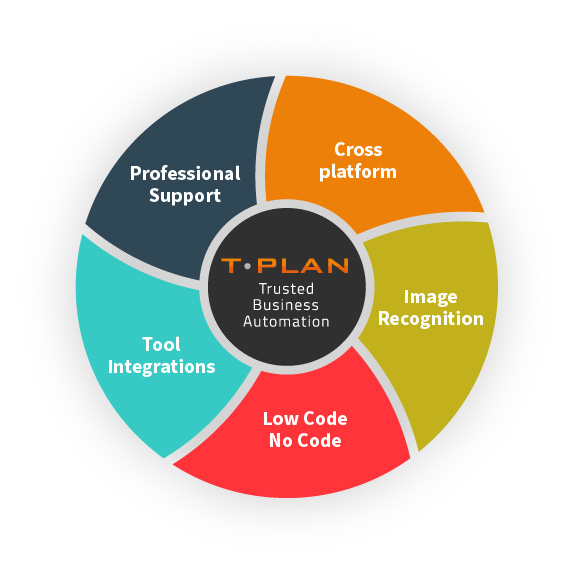 Image Recognition
Delivering critical user feedback from the perspective of the end user. Validate what you see not what the code says.
Low Code/No Code
An intuitive UI designed to be used by both technical and non-technical staff with drag and drop functionality.