Automated Regression Testing Tool
Ensure the stability and reliability of your applications even after making changes or updates.
With its advanced features and capabilities, T-Plan Robot helps QA teams create efficient and reliable regression tests at scale.
Start your free trial today
T-Plan Robot Key Regression Testing Features
When selecting a regression testing tool, organisations need to select a tool that is intuitive, accessible to both technical and non-technical teams alike and provides the flexibility to integrate with existing software and workflows.
Why chose T-Plan Robot for your Black Box Automated Testing?
T-Plan Robot Key Regression Testing Features
Bug detections – automated regression testing helps uncover potential bugs and issues introduced by new software changes
Compatibility insurance – verifies the compatibility of software across different platforms, browsers, and operating systems
Regression Test Suite Management – T-Plan Robot provides robust capabilities for managing and maintaining regression test suites
Regulatory Compliance – By automating regression testing, organisations can demonstrate the reliability and quality of their software to regulatory bodies, reducing the risk of penalties or legal issue
Platform Agnostic, Seamless Integration
Tool Integrations
A vast number of integrations are available, including Selenium Object Automation support saving you time, effort and money building and maintaining the Selenium testing framework.
Platform Agnostic
Cross-browser, cross-device GUI web and mobile automation. Web and Desktop Automation on Mac, Windows and Linux using same application, code and files.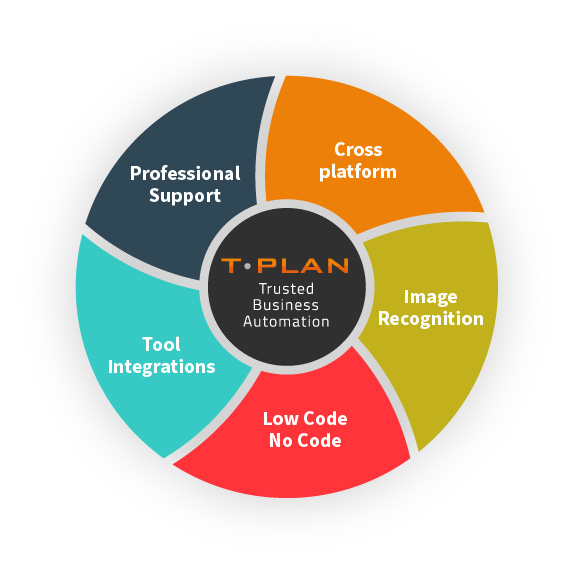 Image Recognition
Delivering critical user feedback from the perspective of the end user. Validate what you see not what the code says.
Low Code/No Code
An intuitive UI designed to be used by both technical and non-technical staff with drag and drop functionality.