Automated Testing for iOS Applications
T-Plan Robot can run the same tests across different mobile devices, at the same time. Automating mobile devices by replicating real user actions at the screen level.
Cross Device & Cross Platform
Mobile test automation (real device or emulator) support for  iPhone, iPad, iPod (iOS etc.).
Non-Jailbroken (non-rooted) and rooted Apple iOS devices automated with fast refresh graphic support.

iOS AirPlay Screen Mirroring of display

Java test script support, as well as a proprietary scripting language.
Record & Replay.
Image & Optical Character Recognition (OCR) search.
Open architecture. JDBC / MS SQL database import / export.
All the same reasons why you would automate desktop applications and operating systems for testing, also apply to mobile environments.
Find errors early in regression testing, by automating overnight to repeatedly test 'stable' functionality
UI Test Automation prevents unexpected user experiences or poor performance when apps are released to human users.
Automate tests at the human interaction level iteratively for each release.
Simulate 'real' user interactions and verify the result is as expected.
Re-use tests across multiple devices and displays to test cross platform robustness.
Integrate test automation with continuous integration for automated build verification in your CI/CD environments.
Test automate support for native apps.
Combine testing with your Selenium and Chromium integrations to test real Android device apps.
Create tests via our intuitive recorder and low code no code design interface.
Platform Agnostic, Seamless Integration
Tool Integrations
A vast number of integrations are available, including Selenium Object Automation support saving you time, effort and money building and maintaining the Selenium testing framework.
Platform Agnostic
Cross-browser, cross-device GUI web and mobile automation. Web and Desktop Automation on Mac, Windows and Linux using same application, code and files.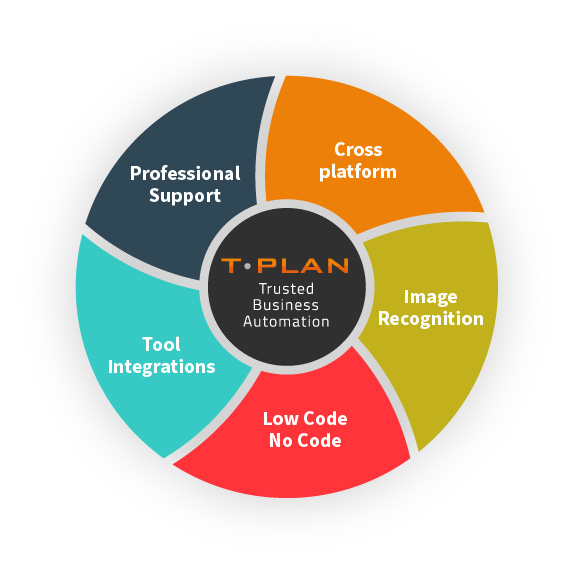 Image Recognition
Delivering critical user feedback from the perspective of the end user. Validate what you see not what the code says.
Low Code/No Code
An intuitive UI designed to be used by both technical and non-technical staff with drag and drop functionality.