Automated Testing for Linux Systems
T-Plan Robot is your go-to solution for Linux desktop automation. Whether you need to automate a single machine or drive multiple virtual environments, T-Plan Robot delivers unmatched capabilities
Automating Secondary Machines and Virtual Environments
Maximise your testing capabilities by automating secondary machines or virtualized environments with T-Plan Robot. In situations where automation of a local desktop is not feasible due to factors such as limited resources or secure desktop configurations, Linux-based automation of a secondary desktop using VNC proves to be the ideal solution.
Simplify your Linux Desktop Test Automation
Create end-to-end tests that cover diverse applications and technologies with ease. With intuitive design tools and scheduling capabilities, your testing efforts become more efficient than ever. Experience the flexibility of automating secondary machines or virtualised environments, ensuring thorough testing and cost-effective parallel execution.
Automation of a second machine or a virtual machine:
In situations where automation of a local desktop cannot occur (e.g. lack of free machines, secure desktop preventing testing etc.), linux based automation of a secondary desktop using VNC is sometimes the only solution.
Unique to Linux desktops Single operating system with multiple desktops. This scenario is limited to Unix/Linux systems, which support running of multiple VNC desktop instances on a single system.
The machine in this case serves as both the client system and the system under automation.
T-Plan Robot typically (but not necessarily) runs on the default system desktop (as is displayed in the picture) and automates a local VNC server instance running in a parallel desktop instance.
Running tests on a secondary machine or in a virtualized environment has many benefits:
Secondary or virtual environments can be cleaned and reset very easily, therefore creating the perfect known, baselined test environment for repeatable tests.
Applications can be driven in an isolated environment e.g. on a separate network.
Applications and interoperability with the operating system can be tested on a soon to be upgraded desktop setup to test for any issues before live.
Applications running on a secondary machine or on a virtual machine behave as if they were running on the intended physical system.
Virtual environments represent a very cost effective way of conducting multiple parallel tests with little or no physical disruption to the workplace.
Virtual machine tests can be executed against many different setups, environments at a low cost compared to a similar physical hardware setup. E.g. for web applications parallel testing against many different browser options at the same time is an excellent cost and time saving methodology.
T-Plan Robot hosted on Linux can automate any other system running an VNC Server such as MS Windows, Mac or Unix/Linux. It can also drive any VirtualBox guest system (virtual machine).
Platform Agnostic, Seamless Integration
Tool Integrations
A vast number of integrations are available, including Selenium Object Automation support saving you time, effort and money building and maintaining the Selenium testing framework.
Platform Agnostic
Cross-browser, cross-device GUI web and mobile automation. Web and Desktop Automation on Mac, Windows and Linux using same application, code and files.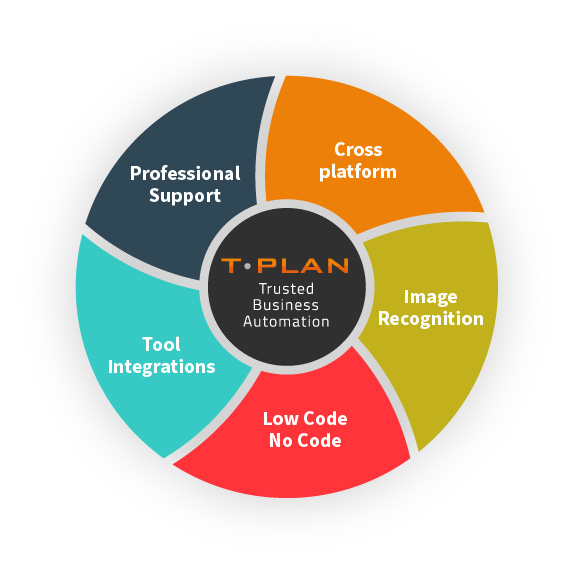 Image Recognition
Delivering critical user feedback from the perspective of the end user. Validate what you see not what the code says.
Low Code/No Code
An intuitive UI designed to be used by both technical and non-technical staff with drag and drop functionality.