Automate the testing of any User Interface on any Operating System and any device
Trusted by leading companies for over 20 years
Start your free trial today
T-Plan Robot is the most flexible tool on the market, allowing you to input data feeds in various formats including spreadsheets, databases, PDFs, text files and more. At any point in the automation cycle, T-Plan Robot can communicate and use live data through APIs and web requests.
Why Automate Functional UI Testing?
It is essential to verify that any application works as intended for the end users. The only way to do this is to navigate the application exactly as a user would, through the standard controls.
Overlapping or miss-aligned elements, incorrect logos and images are all typical issues that are easily identified with image based functional UI automation that could otherwise be missed if looking purely at backend code/elements.
Verify functional elements of your application through native user interactions.
T-Plan Robot comes with the web portal, development and execution features. Thanks to its open architecture with extension interface, the platform can also be easily customised and integrated with other systems.
Platform Agnostic, Seamless Integration
Tool Integrations
A vast number of integrations are available, including Selenium Object Automation support saving you time, effort and money building and maintaining the Selenium testing framework.
Platform Agnostic
Cross-browser, cross-device GUI web and mobile automation. Web and Desktop Automation on Mac, Windows and Linux using same application, code and files.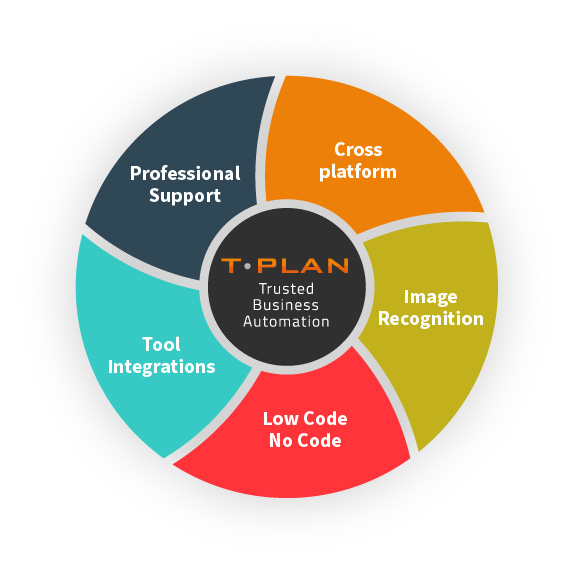 Image Recognition
Delivering critical user feedback from the perspective of the end user. Validate what you see not what the code says.
Low Code/No Code
An intuitive UI designed to be used by both technical and non-technical staff with drag and drop functionality.